Surftest SJ-410 Series 178-Portable Surface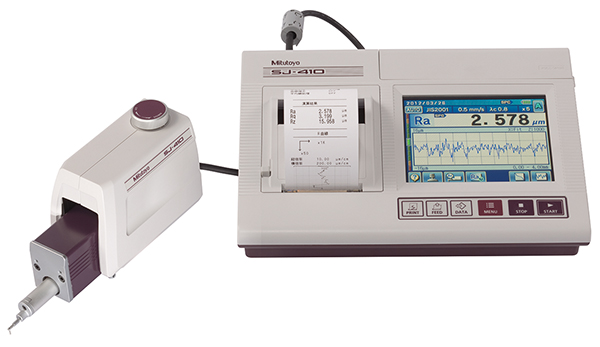 Both skidded and skidless measurement are possible with this series. Equipped with 46 roughness parameters that conform to the latest ISO, DIN, ANSI, and JIS standards.
A wide-range, high-resolution detector and a drive unit provide superior high accuracy measurement in its class. Detector
Measuring range: 800μm
Resolution: 0.000125μm (at 8μm range)
Drive unit
Straightness/traverse length
SJ-411: 0.3μm/25mm
SJ-412: 0.5μm/50mm
Ultra-fine steps, straightness and waviness can be measured by using the skidless measurement function.
The handheld data processing unit and the 5.7-inch color graphic LCD touch-panel provides superior readability and operability. The LCD also includes a back-light for improved visibility in dark environments.
The excellent user interface provides intuitive and easy-to-understand operability.
Measured data can be output to a PC with optional RS-232C or USB cable.
Digital filter function for non-distorted roughness profiles.
GO/NG judgment function.
Auto-calibration function.
The display interface supports 16 languages, which can be freely switched.
Simplified contour analysis function supports the four types of measurement: step, level change, area and coordinate difference.
Access to each feature can be password-protected, which prevents unintended operations and allows you to protect your settings.
The optional attachments for mounting on a column stand significantly increase the operability.
| | | | |
| --- | --- | --- | --- |
| SJ-410 | SJ-410 | SJ-410 | SJ-410 |
| SJ-411 | SJ-411 | SJ-412 | SJ-412 |
| 178-581-01A | 178-581-02A | 178-583-01A | 178-583-02A |

The Gauge Shop
-
"Your Source For Gauge Sales & Service"
407 Grove Street Loudon, Tennessee 37774
We Are Pleased
To Partner With
The Following: